To restore an archived client, follow these steps:
Go to Client Hub from the home screen.
In the search panel at the top, click the down arrow and the drop-down will expand.
Select Archived clients if available (see screenshot).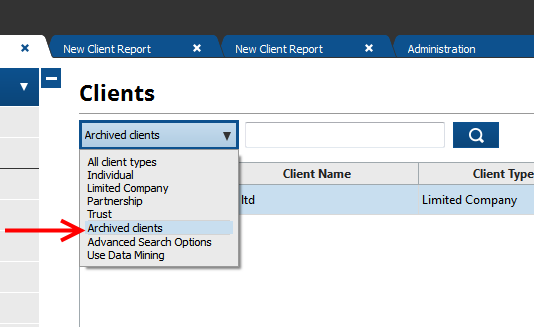 If the client appears on the Archived clients list, select it and click on Restore client. You will then be able to view the client normally.
If the client doesn't appear on the Archived clients list, or you don't have the Archived clients option, you'll need to import the client's return or recreate the client's information manually.
If you have a copy of the return, it can be imported by following the article Importing a Tax Return stored as a file into the Database. This does however require you to have a copy of the tax return to import. If you do not have a copy of the return to import, please contact support for more assistance.
IMPORTANT: In TaxCalc you should archive clients rather than delete them as archiving is reversible. When you archive a client, its record and reports are no longer displayed in Client Hub, but when you you delete a client you remove it and any returns from the system.