On occasion the Postgres service that TaxCalc requires may not start in a timely manner, resulting in a connection error when attempting to start the TaxCalc program.
To resolve please follow these steps on the TaxCalc server machine.
Click on your Windows logo
Type Services and open the Services Desktop app.
Navigate through the list to Postgres 9.4 - PostgreSQL Server 9.4 and double click to open.
Drop down the Startup Type and select;
Automatic - If this issue does not happen often.
Automatic (Delayed Start) - If this issue normally happens after a reboot of the machine.
Select Start.
Select Apply then OK to close the dialog window.
Restart TaxCalc which should now be able to connect to the database.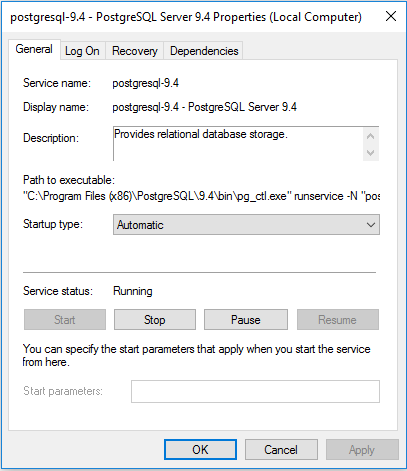 If you continue to encounter a connection issue please contact TaxCalc support with details of the error message given.